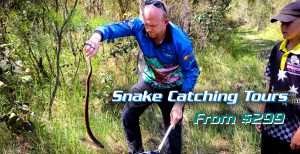 Have you ever wanted to experience what it's like to be a Snake Catcher for a day!?!?
From January 1, 2020 you can!
This has been something we've been working on for a while now and finally we are stoked to be able to provide this awesome experience to the public
Whats included:
– Experience first hand a day in the life of a Professional Snake Catcher here on the Sunshine Coast!!
– Get up close and personal with the Snakes of the Sunshine Coast
– The chance to touch and handle non-venomous snakes
– Personal Photographer and Videographer to capture your day and experiences
– Snake Catcher Merch Pack
– Ride along side the team in the snake mobile all day
– Fully Licensed and Insured
We obviously have the appropriate permits and insurance to provide these awesome day tours and cannot wait to get the first groups booked in
BOOK BELOW: